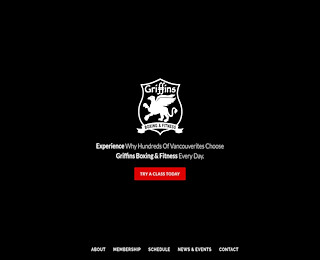 Griffins Boxing Gym in Vancouver
Boxing's popularity as a form of exercise is by no means an accident. It was just waiting for it to become recognized. And when it did get recognition, people flocked to it like bees to flowers. The benefits it gives are countless, no wonder many get hooked to it, whatever their reason for taking it up may be. Good thing Griffins Boxing and Fitness built an excellent boxing gym in Vancouver.
Benefits of Boxing
Those who have used boxing as a form of exercise all come out looking the same: highly toned muscles, no loose skin evident, showcasing the best and greatest weight loss they had in years. All of it could be attributed to the countless benefits boxing bring to its practitioner.
First and perhaps the top benefit is the improved cardiovascular health. Boxing requires a lot of strength that will force all the excess weight and fats out of your body. Imagine the heavy bags weighing 100 pounds at the very least. Hitting the beast of a bag alone will make you spend more calories than you will ever spend than by merely walking briskly.
Second, you will have better hand-eye coordination when you engage in boxing. This is a benefit that not many know at all. The hand-eye coordination has a cumulative effect on your motor skills, making you have faster reflexes. This benefit will be better appreciated in old age, when coordination and balance is important to avoid falls.
Third, your weight loss is not merely water loss. What happens as you keep on engaging in boxing is that your fat mass lessens and gives way to muscle mass. This explains why you don't see much sagging skin with boxing enthusiasts.
Excellent Coaches and Trainers
Getting all the fundamental skills is very important for a newbie. This is the reason why Griffins Boxing and Fitness made sure that all our coaches and trainers are highly trained and certified professionals. Such assurances do not come shallow. Correct training of the coaches ensures the safety of everyone who chooses boxing as an exercise.
To every exercise, there is a proper form and execution. When you forego of these, you have removed your safety net for injuries. Griffins stress safety above else. After all, your pursuit of exercise is meant to improve your overall health.
Spacious Facilities
Griffins made sure to accommodate the number of people we anticipated will get into boxing. Many fitness fads have come and gone. But we knew boxing will remain because of the solid benefits we give to our practitioners.
The spacious 12,000 square feet gym has space for heavy bag exercise, speed bag, sparring, and even for weight training. The design is impeccable, with open bag shelves for the members to place their things while they exercise.
Dave Brett, the owner of Griffins and head trainer, had left no stones unturned in developing Griffins. No wonder it is touted as the best boxing gym in Vancouver. Our wonderful community will be happy to welcome you. Come and join us now.
Boxing Gym Vancouver
Griffins Boxing & Fitness
6049801900
326 Esplanade E
North Vancouver
BC
V7L 1A4
View Larger Map
Try a Class Today
Please note: Your privacy is very important to us. The information you provide here stays between you and us, and is for contact purposes only.